How Macerich Supercharged Specialty Leasing
SPOTLIGHT ON
Macerich
Santa Monica, Calif.-based Macerich focuses on creating value by owning, operating and developing one-of-a-kind retail and mixed-use destinations across affluent commercial real estate (CRE) markets throughout the U.S.
Notably, the company is shaping the future of CRE with a market-dominant portfolio featuring a creative mix of brands, experiences and uses — all while being strongly committed to social responsibility and leading the industry in sustainable practices. And now, Macerich is accelerating its marketing and leasing workflows with Yardi's innovative Elevate Revenue solution stack.
THE QUESTION
How Do You Accommodate Short-Term Lease Requirements?
Once a benchmark in retail, the 10-year lease is no longer the standard in an era of short-term commitments and fast-paced deal-making. Because larger tenants typically require more time to sign a lease as they consider budgets and timing, spaces that are too small or leases that may be too short — but that can also be valuable sources of new revenue — are at risk of falling through the cracks.
Moreover, in order to successfully close short-term leases, spaces aimed at smaller entrepreneurial clients must be marketed and managed online swiftly and effectively. But, managing listings manually across multiple online marketplaces and property websites is a markedly laborious process.
THE ANSWER
Tap Into the Power of E-Commerce
In collaboration with Yardi and its Elevate product suite, Macerich developed Quikspace — an intuitive short-term retail solution that streamlines the entire leasing process by providing tenants with the flexibility to lease short-term spaces, do their research online and even tour spaces virtually.
Powered by Elevate's Edge Marketing and Deal Manager tools, the user-friendly, digital platform simplifies the entire deal cycle by making it as easy as booking a hotel room: First, Edge Marketing enables brokers and owners to effortlessly list and manage leads across Yardi's powerful CommercialEdge Listing Network. Then, with Deal Manager, decision-makers gain full deal oversight and approval functionality, thereby ensuring complete transparency and enhanced communication throughout the lead lifecycle.
"Yardi's Deal Manager has proven to be a well-rounded CRM tool to assist our dealmakers in better managing leads so they can be even more productive. Deal Manager's sophisticated reporting helps our executives make data-driven decisions to lease smarter and more efficiently."

Steve Schmid, Senior Business Intelligence Analyst/Project Manager, Macerich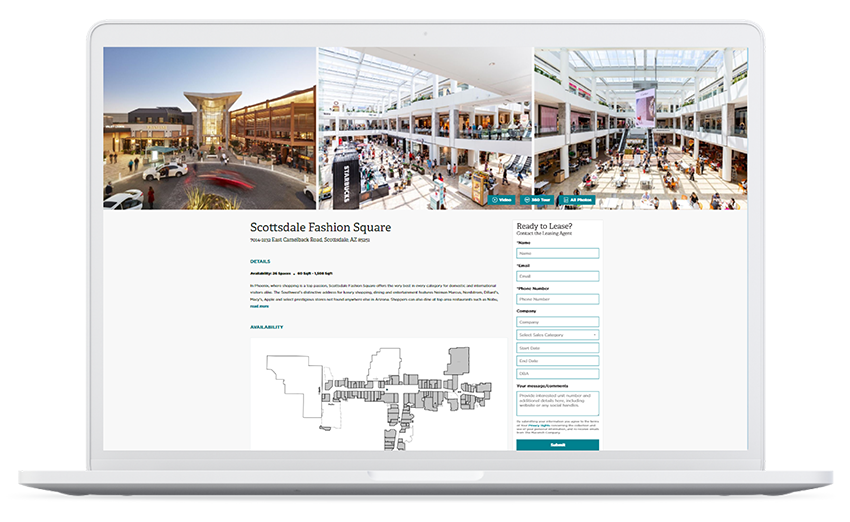 THE STRATEGY
Enhance Lease Experiences & Streamline Workflows
Following the successful implementation of Yardi's core ERP system — including Yardi Voyager — in 2019, Macerich debuted Quikspace with the clear goal of leveraging the power of connected solutions. By integrating elements of Yardi's Elevate Revenue suite into their technology strategy, Macerich developed a sophisticated platform to provide tenants with a frictionless experience.
Edge Marketing: Full-Service Marketing Coordination on One Centralized Platform
The incorporation of Elevate's marketing tool with Quikspace guarantees a branded and SEO-optimized web application that empowers brokers and owners to list spaces — as well as manage listings and all marketing collateral — in one connected marketing hub.
"Owners can create a central repository for property listing data that connects with everywhere you would want that ad to be listed," explained noted Turner Levison, senior account executive with Yardi.
As opposed to keeping track of spaces across multiple databases, the automated process ensures a seamless experience by publishing and unpublishing listings across various marketplaces based on their availability in Yardi Voyager — therefore requiring no manual effort.
Plus, the rapidly expanding CommercialEdge Listing Network — which now includes five marketplaces and generates more than 16,000 qualified leads per month — enables users to market spaces with just one click, while also syndicating their listings to top third-party CRE internet services, as well.
Deal Manager: Track Deal Flow & Gain Unparalleled Portfolio Visibility
Meanwhile, Deal Manager's integration with Quikspace ensures a consolidated system that ties into the property data for an entire portfolio and transforms real-time lease and tenant information into complete deal pipeline visibility. And, because it's fully integrated with Voyager, Deal Manager also prevents data fragmentation and duplicate data entry.
The leasing pipeline management tool enables dealmakers to simultaneously track activity at the company, lease, contact and deal level — all while centralizing communication in one place. Additionally, Deal Manager also compares proposals and deal economics against the approved budget.
"This impactful tool gives us the ability to easily summarize important deal points to facilitate faster lease approvals," Schmid added.
Essentially, the dynamic workflow system moves the deal up the chain, ensuring that it only becomes part of the live environment after it's been approved by the appropriate decision-maker. What's more, the end-to-end solution is accessible directly from a mobile system, thereby allowing executive teams to approve deals at any time and from anywhere.
Rexford's growing portfolio have prompted the REIT to ensure efficient scalability across its operations with Yardi Elevate Revenue.